Front Office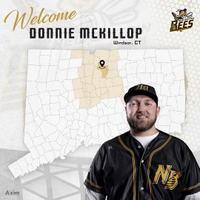 Donnie McKillop
Head Coach/Beekeeper
Donnie McKillop joined Loomis Chaffee in 2017 as the assistant athletic director, head varsity baseball coach and assistant football coach. On campus Donnie is the head of Warham dorm and lives with his wife Katy, their son Trace, their daughters Phoebe and Virginia.
In three years at Loomis, Donnie has led the Pelicans to two outright league titles on the baseball field. He had the opportunity to work with the League Player of the Year, Luis Guerrero, in 2017, and the League Pitcher of the Year, Justin Pacheco, in 2018. Under McKillop's lead the Pelicans are 40-12 and have had 15 All-League players in three seasons of play. Including the graduating class of 2021 McKillop will have placed 27 college ballplayers across all levels including a Major League Draft Pick.
Donnie came to the Island after a season as an assistant football coach at Amherst College, which was proceeded by a year as an assistant baseball coach at his alma mater, Middlebury College. Prior to Middlebury, Donnie was a graduate assistant football coach at Springfield College where he coached the secondary and linebackers as well as interning in the athletic departments of Amherst and Dartmouth. From 2011 – 2014 Donnie was a history teacher at Williston Northampton where he also coached baseball, football, and basketball.
Donnie is a 2011 graduate of Middlebury where he started all four-years on the baseball and football teams, serving as captain of both programs. He earned All-NESCAC honors as a third baseman in 2009 and 2010. As a two-year captain for Middlebury baseball, he also led the team to a NESCAC playoff berth in 2011 and still holds the record for most doubles in a career.
On the football field Donnie quarterbacked the 2007 NESCAC championship team where he was All NESCAC, Rookie of the Year in 2007, and Player of the Year in 2009. He graduated as the Panthers' highest rated passer and remains atop most passing statistical categories in the program's history. Donnie earned Middlebury's Bayard Russ '66 Memorial Athletic Award; awarded to the senior who is most outstanding in two intercollegiate sports exemplifying the excellence of performance, aggressiveness, leadership, tremendous desire and team spirit of A. Bayard Russ '66.
Donnie's favorite element of athletics is the relationships built by the practice of sport; sharing common goals and pursuing them relentlessly together with teammates.
New Britain Bees Ownership
New Britain Bees Staff
Lets Go Bees