Front Office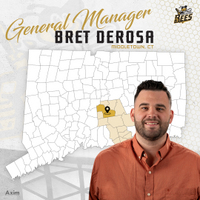 Bret DeRosa
General Manager
Phone:
(860) 826-BEES (2337) x 102
E-mail:
Bret DeRosa is a Centereach, NY native with a plethora of educational, and practical experience in the sports field. DeRosa attended West Virginia University where he obtained a Bachelors Degree in Sports Management. Afterwhich he obtained his Masters Degree in Sports Business from New York Univeristy. DeRosa was given his start in the sports industry by working for the Long Island Ducks as the organizations Assistant Clubhouse Manager.
Before Joining the Bees Bret worked for Dynamic Sports Management where he obtained a vast amount of knowledge of operating in the elite youth sports world.
DeRosa is passionate about all sports, but during his baseball playing days he was a three-year varsity starter for Centereach High School's baseball team where he was awarded All County honors in his senior year, and helped the team to two consecutive league championships as a starting pitcher, and the teams third baseman.
New Britain Bees Ownership
New Britain Bees Staff
Lets Go Bees