Front Office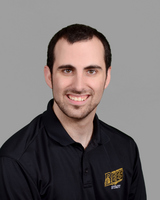 Chris Knoblock
Director of Media Relations & Broadcasting
Phone:
860-826-BEES (2337) x 109
E-mail:
A native of Belmont, Massachusetts, Knoblock joined the Bees as the team's inaugural broadcaster after serving as Director of Communications & Media Relations for the American Hockey League's Portland Pirates for two seasons under their affiliation with the NHL's Arizona Coyotes. The 2012 graduate of the Honors College at the University of Maine began broadcasting in 2009, serving as the Black Bears' student voice on WMEB 91.9 FM for baseball from 2010-2012 as well as the play by play voice for Men's Hockey during the 2011-12 season. Knoblock's favorite highlight of his college career was broadcasting from Frozen Fenway in 2012.
In the offseason, Knoblock serves as the play by play voice and social media director for the two-time Clarkson Cup Champion Boston Blades of the Canadian Women's Hockey League. Knoblock worked with the CWHL to cover the first ever Outdoor Women's Classic at Gillette Stadium on December 31, 2015.
Cell: (617) 480-9706
New Britain Bees Ownership
New Britain Bees Staff
Baseball Operations
Advanced Physical Therapy Training Staff
Bristol Hospital Medical Staff