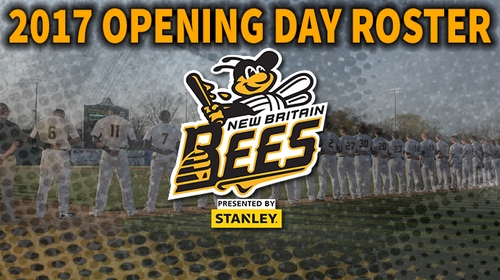 MLB VET BRANDON LEAGUE JOINS PITCHING STAFF AS BEES PREPARE FOR OPENING NIGHT
(New Britain, Conn., April 20, 2017) - New Britain Bees team officials today announced that the team has finalized the 27-man opening day roster for the club's second Atlantic League of Professional Baseball season. The roster includes 11-year Major League veteran pitcher Brandon League, who has signed a contract for 2017, as well as veteran pitcher Chris Hayes, who makes the opening day roster after participating in the Bees' open tryout on April 11.
13 members of the opening roster played for the New Britain Bees during the 2016 Inaugural Season, helping the team to a 71-69 record. Included on the roster are five players with previous Major League experience, as well as 12 players who will play in the Atlantic League of Professional Baseball for the first time. Six members – Anthony Marzi (Berlin), Jovan Rosa (East Hartford), Kevin Putkonen (South Windsor), Mike Hepple (Newington), Chris Hayes (Cromwell), and Conor Bierfeldt (Torrington) – are Connecticut natives, with a seventh – Player/Pitching Coach Shawn Gilblair (Willimantic) – starting the year on the inactive list.
The roster is as follows:
Pitchers (14): Joe Beimel, Casey Coleman, Brian Dupra, Eric Fornataro, Brandon Fry, Chris Hayes, Mike Hepple, Jason Jarvis, Brandon League, Anthony Marzi, Jonathan Pettibone, Nate Roe, Brandon Shimo, Kyle Simon
Catchers (2): James Skelton, Ivan Villaescusa
Infielders (5): Michael Baca, Steve Carrillo, Jon Griffin, Jake McGuiggan, Jovan Rosa
Outfielders (5): Conor Bierfeldt, Michael Crouse, Paul Kronenfeld, Kevin Putkonen, Jamar Walton
Hitting Coach/Designated Hitter (1): Craig Maddox
The following transactions have been made prior to the announcement of the 27-man roster:
Signed: RHP Brandon League, RHP Chris Hayes, OF Conor Bierfeldt, OF Kevin Putkonen, INF Michael Baca
Released: RHP David Gates
Placed on Inactive List: Pitching Coach/LHP Shawn Gilblair
Manager Stan Cliburn has also announced New Britain's starting rotation to begin the season. Casey Coleman will get the start tomorrow as the Bees open the season against the York Revolution at New Britain Stadium. Coleman will be followed in the rotation by former Phillies pitcher Jonathan Pettibone, Brian Dupra, Berlin native Anthony Marzi, and former St. Louis Cardinal Eric Fornataro.
Per Atlantic League rules, the Bees' roster may remain at a maximum of 27 until May 31, at which point all ALPB rosters are allowed a maximum of 25 players. A full roster can be found online at
http://nbbees.com/team/roster/
.
"We have a great group of gentlemen this season, and they have fantastic chemistry in the clubhouse," Said Bees Manager Stan Cliburn. "All of them fill a significant role on our roster, and we're looking forward to getting on the field, and hopefully bringing a championship back to the city of New Britain."
About the New Britain Bees
The New Britain Bees are members of the Atlantic League of Professional Baseball, playing all home games at New Britain Stadium. Opening Night is April 21st against the York Revolution, with first pitch at 6:35 PM. Tickets for the 2017 season, including Season Tickets and Mini-Plans, are available by calling 860-826-BEES (2337), online at NBBees.com, or by visiting the New Britain Bees' Front Office.
About the Atlantic League of Professional Baseball (ALPB)
The Atlantic League has been a leader in professional baseball and a gateway to Major League Baseball since 1998. Over 36 million fans have attended Atlantic League games and more than 800 players and 50 managers and coaches have joined MLB organizations directly from the ALPB. The Atlantic League emphasizes winning baseball games, showcasing the talent of top-caliber players and offering affordable family entertainment to metropolitan markets serving nearly 15% of the US population.
###