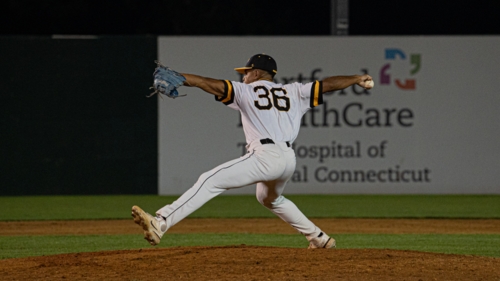 Bees Win Playoff Thriller Over Sea Unicorns
Written by: Drew Mals
(New Britain, CT) – The New Britain Bees defeated the Norwich Sea Unicorns 3-2 in front of a packed house Wednesday night, winning its first ever Futures League postseason win.
The Bees wasted no time getting on the board when Freddy Forgione (Ronkonkoma, NY/SUNY Maritime) laced a base hit up the middle that scored Gavin Greger (Bristol, CT/Bryant University) giving New Britain an early 1-0 lead after one.
Norwich wasted no time getting back into the game when former Bee, Ray Leonzi ripped a double that scored Zack Kovalchik tying the game up at 1-1 in the second inning.
Norwich took the lead 2-1 in the top of the fourth on a throwing error.
The Bees bats weren't finished yet as Bryce Molinaro (Drums, PA/ Penn State) came through clutch with a game-tying double scoring Jimmy Keenan (White Plains, NY/ St. John's University) evening up the game 2-2 in the bottom of the seventh.
Jeff Nicol (Wolcott, CT/Central Connecticut State University) came into pinch hit in the bottom of the eighth and drew a crucial walk, but was pinch run for by CJ Brito-Trinidad (South Kent, CT/Bowdoin).
A throwing error by Norwich would allow Brito-Trinidad to reach third base and bring up one of New Britain's best hitters all season Garrett Scavelli (Franklin Square, NY/St. John's University).
Scavelli, who was hitless during the postseason, came up big for the Bees, ripping a line drive back up the middle scoring Brito-Trinidad giving the Bees a 3-2 lead in the eighth.
Things got interesting in the top of the ninth when Norwich found themselves with two runners in scoring position with just one out. The Bees season was on the line.
Brian Hart (Queens, NY/Hofstra University) stepped up big like he did all season for New Britain as he closed the door on the number one seed in the Futures League, but with a little help from Mike Torniero (West Haven, CT/Central Connecticut State University) in right field who made a big catch to save the Bees season.
Torniero came in as a defensive sub for Aidan Cohall (Bronx, NY/St. John's University) in the top of the ninth.
The Bees bullpen was dominant as Ryan Oshinskie (Fairlfield, CT/Brown) and Brian Hart combined for 5 ⅓ innings pitched with zero runs allowed and seven strikeouts.
This win marked the first ever postseason win for the Bees in the Futures League.
New Britain will take the short trip down Route 2 and look to finish the job over Norwich tomorrow night August 10th at Dodd Stadium to advance to its first Futures League Championship in franchise history.
WP - Brian Hart LP- Brad Lewis