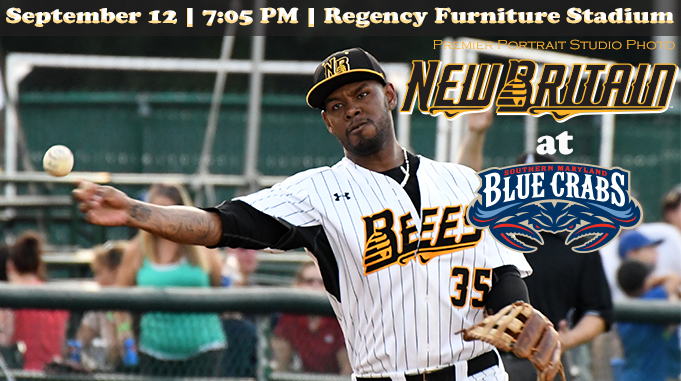 In 140 Characters or Less: The Bees take on the Blue Crabs in the final road series of the regular season! First pitch 7:05PM!
Series: Entering this three-game series, the Blue Crabs hold a 10-7 lead over the Bees in the season series. Southern Maryland swept the most recent series between the teams, which occurred at Regency Furniture Stadium from August 19-21.
Bees Home Tickets: BUY HERE | Available at the New Britain Stadium Box Office | Call 860-826-BEES
The Bees: The Bees enter the final leg of their season-long nine-game road trip having won four of the first six games of the trip. The team is, however, coming off a series loss to to the Liberty Division-leading Somerset Patriots, dropping them four games in back of Somerset for the division. The Bees remain one game behind the Sugar Land Skeeters for a wild card spot.
The Opposition: In their most recent series, the Blue Crabs dropped two of three games to Sugar Land at home. Southern Maryland will wrap up their home schedule for the season with this series against New Britain, where the Crabs are 26-41 on the year.
Starters
New Britain- Kyle Simon (7-5, 2.77) | Southern Maryland- Brian Grening (9-5, 3.33)
Key to the Game: Find a way— The Bees have yet to find much luck in seven games against the Blue Crabs at Regency Furniture Stadium this season, posting a 1-6 record in those seven games. With just seven games remaining in the regular season and New Britain fighting for a playoff berth, the Bees will have to find a way to finally beat the Crabs on their home turf to avoid being knocked out of playoff contention.
Broadcast: YouTube (youtube.com/NewBritainBees)
Song of the Day: "Final Countdown"- Europe
Bees Buzz: Michael Crouse is two stolen bases away from 60 on the season and 200 for his professional career…Greg Golson has picked up at least one hit in five of the first six games of this road trip, including having hits in each of the last four games…Shawn Gilblair's next appearance will set a new career high for appearances in a season (currently high is 44)…
About the New Britain Bees
The New Britain Bees are members of the Atlantic League of Professional Baseball and are in their inaugural season of play at New Britain Stadium. Tickets for the 2017 season, as well as all remaining 2016 home games, are available by calling 860-826-BEES (2337), online at NBBees.com, or by visiting the New Britain Stadium Box Office.
About the Atlantic League of Professional Baseball (ALPB)
The Atlantic League has been a leader in professional baseball and a gateway to Major League Baseball since 1998. Over 35 million fans have attended Atlantic League games and more than 800 players and 50 managers and coaches have joined MLB organizations directly from the ALPB. The Atlantic League emphasizes winning baseball games, showcasing the talent of top-caliber players and offering affordable family entertainment to metropolitan markets serving nearly 15% of the US population.

For more information, please visit www.AtlanticLeague.com


###