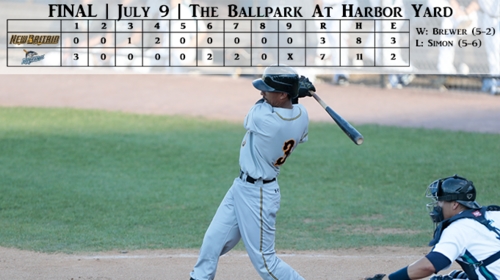 BEES HEAD INTO ALL-STAR BREAK 3-3 IN SECOND HALF
In 140 Characters or Less: Rosa brings his league leading hit total to 83 in a 7-3 loss to Bridgeport, Bees head into the All-Star break at 3-3 #NewBritainVsEverybody
The Game Changed When… In a tie game, Bridgeport came to bat in the bottom of the 6th inning. Jose Gil stepped up to bat with Jose Cuevas at third and Andrew Lambo at first. Gil would ground into a double play, but Cuevas would come home to score, giving the Bluefish a 4-3 lead. Tony Abreu would add an insurance run in the frame with an RBI double, and the Bridgeport lead would hold until the final out.
Pitchers of Record: W: Charles Brewer (5-2) | L: Kyle Simon (5-6)
Player(s) of the Game: Jonathan Galvez (Bridgeport) – 3-4, 2B, RBI | Jamar Walton (New Britain) – 2-4, 2B, RBI
Next Game: Friday, July 14th, 6:35 P.M.
Tale of the Tape – Southern Maryland Blue Crabs (4-1, 42-32) vs. New Britain Bees (3-3, 29-47)
Starting Pitchers – New Britain: LHP Nick Greenwood (0-2, 6.39) | Southern Maryland: TBD
TICKETS:
BUY HERE
| Available at the New Britain Stadium Box Office | Call 860-826-BEES
PROMOTIONS: When the Bees return to action after the All-Star break, Fat Tire Friday and Foul Pole Friday will also be back at New Britain Stadium! Fans can sign up to win weekly giveaways presented by Fat Tire, and also sign up for a chance to win $50,000 on Foul Pole Friday!
Bees Buzz: Today's game was Jonathan Griffin's first start in the lineup since June 23rd…Craig Maddox has extended his hitting streak to 11 games…Jovan Rosa has recorded multiple hits in back to back games, and at least 1 hit in 6 consecutive games…Today's game was Michael Crouse's first day off since May 27th in game 2 of a doubleheader against Southern Maryland…Bridgeport has clinched the season series victory over the Bees with the win today…This game was Jordan Hinshaw's first start in center field as a member of the Bees…Kyle Simon has pitched at least 7 innings in his last 4 starts, and 6 of his last 7 overall…Jovan Rosa now leads the Atlantic League in hits with 83, and is currently tied for the Atlantic League lead in doubles with 22…Jamar Walton has recorded multiple hits in 3 consecutive games…Brandon League has not allowed a run in his last 4 outings, only giving up 2 hits (3 2/3 innings)…Jovan Rosa extended his consecutive games played for the Bees streak to 216, and his overall consecutive games played streak to 239, including postseason.
About the New Britain Bees
The New Britain Bees are in their second season of play as a member of the Atlantic League of Professional Baseball and play at New Britain Stadium. Tickets for the 2017 season are available by calling 860-826-BEES (2337), online at
NBBees.com
, or by visiting the New Britain Stadium Box Office.
About the Atlantic League of Professional Baseball (ALPB)
The Atlantic League has been a leader in professional baseball and a gateway to Major League Baseball since 1998. Over 37 million fans have attended Atlantic League games and more than 800 players and 50 managers and coaches have joined MLB organizations directly from the ALPB. The Atlantic League emphasizes winning baseball games, showcasing the talent of top-caliber players and offering affordable family entertainment to metropolitan markets serving nearly 15% of the US population.
###