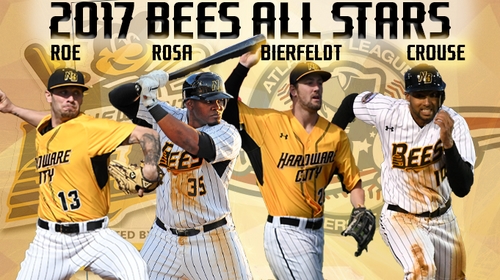 ROSA, BIERFELDT, CROUSE AND ROE TO REPRESENT NEW BRITAIN AT MIDSUMMER CLASSIC
(Bridgewater, New Jersey, July 3, 2017) – The Atlantic League of Professional Baseball has announced the Freedom and Liberty Division All-Stars selected to play in the 2017 Atlantic League All-Star Game to be hosted at TD Bank Ballpark on Wednesday, July 12th. The All-Star festivities will begin at the ballpark at 5:00 pm, with the game scheduled for 7:10 pm.
Both squads will feature 22 players, including 13 position players and nine pitchers. Players were chosen by a combination of balloting of league and team officials, managers, media representatives and fan voting. Nearly 35,000 ballots were cast by fans to help choose this year's squads.
"Every year I am impressed by the players that represent our league and this year's All-Stars are no exception," said Atlantic League President Rick White. "Each showcase their talents at a very high level of play, which has led to a league record 38 player contracts being purchased already this season by Major League Baseball and international leagues. Fans will see the very best Atlantic League players in an All-Star setting. TD Bank Ballpark is an award-winning ballpark and I am very excited for our players and fans to experience an All-Star experience in Somerset."
New Britain infielder Jovan Rosa, outfielders Conor Bierfeldt and Michael Crouse, and pitcher Nate Roe will represent the Bees' on the Liberty Division roster. Pitcher Anthony Marzi also earned All-Star honors prior to his contract purchase by the Minnesota Twins organization.
Rosa, 29, becomes the first Bee named to multiple All-Star rosters as he represents New Britain for the Liberty Division for the second straight year. The East Hartford native has played in 210 consecutive games for the Bees (224 consecutive regular season Atlantic League games overall), and has eight home runs and 37 RBIs this season. Rosa is currently tied for second in the Atlantic League in doubles with 18. This will be the fourth All-Star nod of Rosa's career, following honors in the Midwest League (2008) and Frontier League (2013).
Bierfeldt, 26, earns his first All-Star nod in his first Atlantic League season. A native of Torrington, Connecticut, Bierfeldt leads the Bees in home runs with 12 and in runs batted in with 38. Bierfeldt previously earned Mid Season All-Star honors in 2015 as a member of the Delmarva Shorebirds (A - Orioles).
A native of Coquitlam, British Colombia, Canada, Crouse makes the All-Star roster after batting .272 with 10 home runs and 35 runs batted in. The 26 year old leads the Atlantic League in triples with six, while tallying 20 stolen bases. Crouse, who had the number one play on Sportscenter's SC Top 10 last Monday after robbing a home run from KC Hobson in Lancaster, will play in his first All-Star game since being named to the Midwest League's midsummer classic in 2012 as a member of the Lansing Lugnuts (A – Blue Jays).
Roe, 27, makes his first Atlantic League All-Star team after a breakout season in the Bees bullpen. In 30 appearances, Roe has a 2-2 record with one save, tallying 28 strikeouts and an ERA of 2.31. A native of Plainfield, New Jersey and graduate of Rutgers University, the right hander will represent the Bees in his home state.
The home Liberty Division is made up of eight Somerset Patriots, five Bridgeport Bluefish, five Long Island Ducks, and four New Britain Bees. The team will be managed by Somerset's Brett Jodie, who guided his team to the Liberty Division First Half Championship and a league best 42-28 record. In his five seasons as manager of the Somerset Patriots, Jodie's teams have made the playoffs every year. He won Atlantic League Championship and Manager of the Year honors in 2015.
The visiting Freedom Division consists of seven Southern Maryland Blue Crabs, six York Revolution, five Lancaster Barnstormers, and four Sugar Land Skeeters. Sugar Land's Gary Gaetti will manage the squad after leading the Skeeters to their first championship in 2016. The 20-year Major League veteran is the only manager in Sugar Land history and was named Manager of the Year in 2013 when his team set a league record with 95 wins.
"We are honored to be the site of the 20th Atlantic League All-Star Game," said Somerset Patriots Chairman Steve Kalafer, a founding member of the Board of Directors of the Atlantic League. "As one of the original members of the league, it's a fitting place to celebrate this milestone event. The rosters reflect the very best of our league and we owe it to the players and all of the fans to make it an All-Star Game they'll always remember."
The 2017 Atlantic League All-Star Game is the premier event of the summer, hosted by the Somerset Patriots at TD Bank Ballpark on Wednesday, July 12th. The event is presented by RWJBarnabas Health and Horizon Blue Cross Blue Shield of New Jersey and will feature the biggest Fireworks Show in ballpark history, commemorative giveaways for all ages, entertainment from the ZOOperstars and Birdzerk, and a Home Run Derby before the game. For tickets, stop by TD Bank Ballpark, call (908) 252-0700 or visit www.somersetpatriots.com.
About the New Britain Bees
The New Britain Bees are members of the Atlantic League of Professional Baseball, playing all home games at New Britain Stadium. Tickets for the 2017 season, including Season Tickets and Mini-Plans, are available by calling 860-826-BEES (2337), online at
NBBees.com
, or by visiting the New Britain Bees' Front Office.
About the Atlantic League of Professional Baseball (ALPB)
The Atlantic League has been a leader in professional baseball and a gateway to Major League Baseball since 1998. Over 36 million fans have attended Atlantic League games and more than 800 players and 50 managers and coaches have joined MLB organizations directly from the ALPB. The Atlantic League emphasizes winning baseball games, showcasing the talent of top-caliber players and offering affordable family entertainment to metropolitan markets serving nearly 15% of the US population.
###