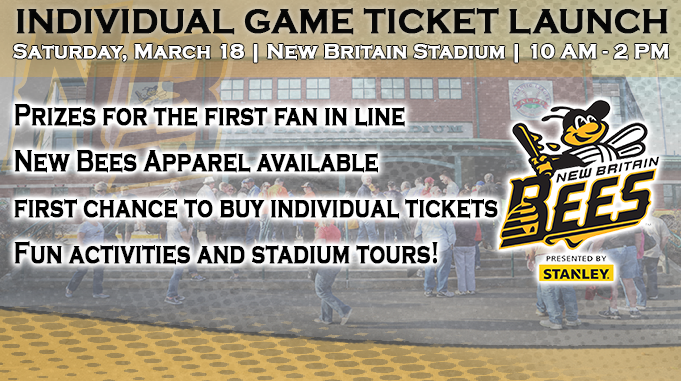 TICKET KICKOFF EVENT TO TAKE PLACE AT NEW BRITAIN STADIUM FROM 10 AM – 2 PM
(New Britain, Conn., March 1, 2017) The New Britain Bees today announced that individual tickets for all 2017 season home games will go on sale Saturday, March 18th at 10:00 a.m. The New Britain Stadium box office will be the only place fans can purchase tickets at that time. To ensure the best availability for all of this year's promotional dates, fans are encouraged to arrive at the ballpark early.
"We're excited to host this year's individual ticket kickoff event as we approach the Bees' second season, and look forward to welcoming fans to New Britain Stadium, "said Bees General Manager Gerry Berthiaume. "With this year marking the 35th consecutive season of professional baseball in New Britain, the tradition of safe, affordable family entertainment and high quality professional baseball in the Hardware City has never been stronger."
All fans are invited to join in the excitement and entertainment at New Britain Stadium on March 18th. There will be a host of fun activities taking place for those of all ages, and this will be the first opportunity to secure seats for individual Bees games this year. B. Hive & Co., the official New Britain Bees store, will open at 9:30 a.m. for fans to browse and purchase a wide selection of Bees apparel.
The box office will officially open at 10:00 a.m. for those waiting in line to purchase their individual game tickets. The first fan in line for tickets will receive several exciting prizes for showing their support, so arrive early at New Britain Stadium!
More information regarding the 2017 promotional schedule will be announced soon. Fans are encouraged to stay tuned to NBBees.com for further updates. Those wishing to skip the lines on March 18 should contact the Bees at (860) 826-BEES [2337] to find out how to become a season ticket or 10-game mini plan holder.
About the New Britain Bees
The New Britain Bees are members of the Atlantic League of Professional Baseball, playing all home games at New Britain Stadium. Individual game tickets for the 2017 season go on sale at New Britain Stadium starting on March 18th at 10 am. Season Tickets and Mini-Plans are available by calling 860-826-BEES (2337), online at
NBBees.com
, or by visiting the New Britain Bees' Front Office.
About the Atlantic League of Professional Baseball (ALPB)
The Atlantic League has been a leader in professional baseball and a gateway to Major League Baseball since 1998. Over 36 million fans have attended Atlantic League games and more than 800 players and 50 managers and coaches have joined MLB organizations directly from the ALPB. The Atlantic League emphasizes winning baseball games, showcasing the talent of top-caliber players and offering affordable family entertainment to metropolitan markets serving nearly 15% of the US population.
###