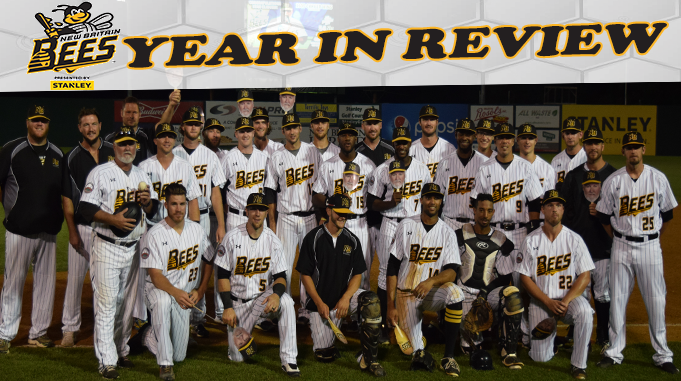 (New Britain, Conn., September 21, 2016) – The first season of New Britain Bees baseball has wrapped – and what an inaugural season it was! On the field and off, the Bees made history, welcoming fans to a beautifully renovated New Britain Stadium and proving at each of our 70 home games that "It's Better with the Bees!" Included in the highlights were:
*An inaugural season record of 71-69. The 71 wins are the third most all-time by an expansion franchise in their first season of play in the Atlantic League of Professional Baseball. Under the leadership of manager Stan Cliburn, who made a triumphant return to New Britain in 2016, the Bees staved off playoff elimination until the season's penultimate game.
*The unveiling of Sting, the Bees' lovable mascot, in March! Sting, , created by Scollon Productions, makers of both Super Bowl 50 mascots, made over 100 appearances in the community during the 2016 inaugural season and will continue to appear during the offseason and beyond!
*More than $500,000 invested in improvements and renovations of New Britain Stadium, which included a completely new playing surface created under the direction of the Boston Red Sox grounds crew, all 9 luxury suites receiving complete renovations, brand new clubhouses for both teams, new concessions stands, and a newly painted concourse level to reflect the Bees' new identity.
*Stanley Black & Decker signing on as the Bees' presenting sponsor, which united New Britain's most well known corporation with a new tradition of baseball in the Hardware City. The Bees were thrilled to partner with Stanley for the inaugural season and look forward to a lasting partnership for years to come!
*214,635 fans visiting the newly-renovated New Britain Stadium during the Bees' inaugural season – 50,000 more than the opening season of New Britain Stadium in 1996.
*The first ever sellout in Bees history during the final game of the first homestand on April 27. The Bees welcomed 6,251 as they took on Long Island in the first ever School Day game.
*Eight players having their contracts purchased by Major League or foreign organizations. They included Eric Fornataro, Baltimore; Nick Greenwood, Minnesota; Josh Zeid, New York Mets; Cole Johnson, Arizona; Josh Outman, Pittsburgh; Shawn Haviland, Cleveland; Jon Jones, Mexico; Steve Carrillo, Mexico. Eric Fornataro was the first ALPB player to have a contract purchased during the 2016 season. Of the six players that were purchased by MLB organizations, five reached the AAA level.
*Two Baseball Summer Camps held at New Britain Stadium that saw over 100 local children learn baseball fundamentals from Bees manager Stan Cliburn and members of New Britain's roster.
*13 players with ties to the local Connecticut community suiting up in black and gold in 2016, including Berlin native and UConn graduate Anthony Marzi, who made the team after a try-out in spring training. Other players with ties to the Nutmeg State included Josh Zeid (New Haven), Nick Greenwood (Farmington), Casey Frawley (New Haven), Joe Kuzia (Waterbury), Shawn Haviland (Middletown), Shawn Gilblair (Windham, ECSU graduate), Conor LeBlanc (Glastonbury), Kevin Rivers (Bristol), Cole Johnson (Newington resident), Anthony Hewitt (Salisbury School graduate), Kevin Vance (UConn graduate), and Jovan Rosa (East Hartford HS graduate).
* Michael Crouse finishing with 61 stolen bases to lead the Atlantic League – the most in the ALPB since 2010 (Wayne Lydon, Somerset, 66).
*Career years for James Skelton (10 Home runs, 91 walks, .399 OBP), Craig Maddox (10 Home Runs, .305 Batting Average), and Shawn Gilblair (21 SVS, 1.87 ERA).
* Kyle Simon leading the Atlantic League in ERA with a 2.77 mark, and setting a career high in innings pitched with 120.1. Highlighting Simon's season was a 1 hour 59 minute, two hit shutout of the Somerset Patriots on June 22nd at New Britain Stadium. Simon was the Liberty Division's starter at the 2016 Atlantic League All-Star Game in Lancaster on July 13th.
*Seven Bees named to the 2016 Atlantic League All-Star Game, with Jovan Rosa, Craig Maddox, Jon Jones, Jonathan Roof, Shawn Gilblair, and Kyle Simon representing New Britain for the Liberty Division. Stan Cliburn managed the Freedom Division squad to a 3-1 victory over the Liberty Division.
*Jovan Rosa becoming the third-ever player to appear in all 140 games in an Atlantic League season. The 28 year old third baseman appeared in 131 games at the hot corner, and led the Bees in home runs with 13.
*Nick Murphy hitting his first professional home run in the final game of the 2016 inaugural season. Jake McGuiggan also tallied his first pro homer for the Bees, with a three-run shot against the Long Island Ducks on July 27th.
The New Britain Bees would like to thank everyone who came out and supported the team all season long, and we look forward to seeing you all back at New Britain Stadium in 2017 for the second season of Bees baseball in Central Connecticut!
About the New Britain Bees
The New Britain Bees are members of the Atlantic League of Professional Baseball, playing all home games at New Britain Stadium. Season Tickets for the 2017 season are available by calling 860-826-BEES (2337), online at NBBees.com, or by visiting the New Britain Bees' Front Office.
About the Atlantic League of Professional Baseball (ALPB)
The Atlantic League has been a leader in professional baseball and a gateway to Major League Baseball since 1998. Over 36 million fans have attended Atlantic League games and more than 800 players and 50 managers and coaches have joined MLB organizations directly from the ALPB. The Atlantic League emphasizes winning baseball games, showcasing the talent of top-caliber players and offering affordable family entertainment to metropolitan markets serving nearly 15% of the US population.
###