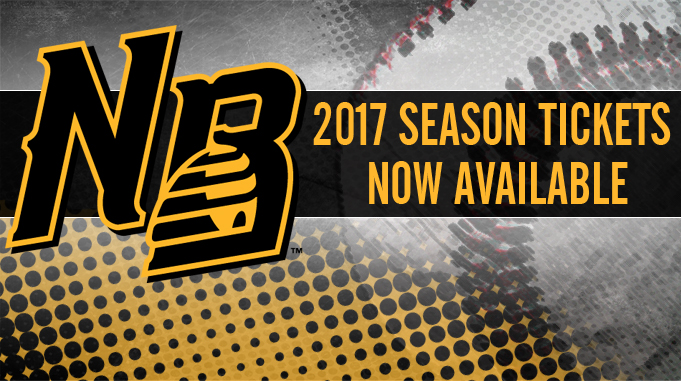 FULL 70 GAME & 10-GAME MINI PLANS AVAILABLE FOR SECOND SEASON OF NEW BRITAIN BEES BASEBALL
(New Britain, Conn., August 29, 2016) – Season ticket packages for the 2017 season of New Britain Bees baseball are now on sale. Fans can purchase ticket plans by visiting the New Britain Stadium Box Office or by calling (860) 826 - BEES and asking to speak with a ticket sales representative.
Two season ticket packages are available for the 2017 season as the Bees prepare for their second Atlantic League campaign. Fans have the option of a full 70 game season ticket plan, which maximized season ticket benefits, as well as a 10-Game Mini Plan. Both plans include the following benefits:
Special Early Entrance to New Britain Stadium
Never a Wasted Ticket
10% Merchandise Discount at B. Hive & Co.
Mention in an official Team Publication
First Opportunity for 2017 Playoff Tickets
Opportunity to throw out a first pitch!
In addition to these great benefits available for both packages, full 70 game Season Ticket holders for the 2017 season can take advantage of the following additional benefits:
Exclusive Pre-Season Meet The Team
Season Ticket Holder Batting Practice during the 2017 Season
Private Tours of New Britain Stadium
An Exclusive Ticket Pick-Up Event
A 2016 World Series Watch Party at New Britain Stadium
A special baseball card featuring YOU!
A discount on Suite purchases (Monday-Thursday games) during the 2017 season
Season Ticket Holder name on your seats
A discounted parking pass
As part of the Bees' commitment to affordable, family entertainment in Central Connecticut, New Britain will keep season tickets at the same price as last season, with the added benefit of an EZ Pay option! The Bees will work with you to make sure that paying for your season tickets is as easy as paying your monthly bills.
Current Bees season ticket holders have the opportunity to reserve their same seats for the 2017 season by placing a deposit no later than September 30th, 2016. A season ticket representative will reach out to all current season ticket holders in the coming week.
To secure your seats for every home game during the Bees' 2nd season, please call (860) 826-BEES and speak with someone in the ticket office or visit
nbbees.com/Tickets
for more information.
About the New Britain Bees
The New Britain Bees are members of the Atlantic League of Professional Baseball and are in their inaugural season of play at New Britain Stadium. Tickets for the 2017 season, as well as all remaining 2016 home games, are available by calling 860-826-BEES (2337), online at NBBees.com, or by visiting the New Britain Stadium Box Office.
About the Atlantic League of Professional Baseball (ALPB)
The Atlantic League has been a leader in professional baseball and a gateway to Major League Baseball since 1998. Over 35 million fans have attended Atlantic League games and more than 800 players and 50 managers and coaches have joined MLB organizations directly from the ALPB. The Atlantic League emphasizes winning baseball games, showcasing the talent of top-caliber players and offering affordable family entertainment to metropolitan markets serving nearly 15% of the US population.
For more information, please visit www.AtlanticLeague.com
###