Host Families
Become a Bees Host Family in 2020!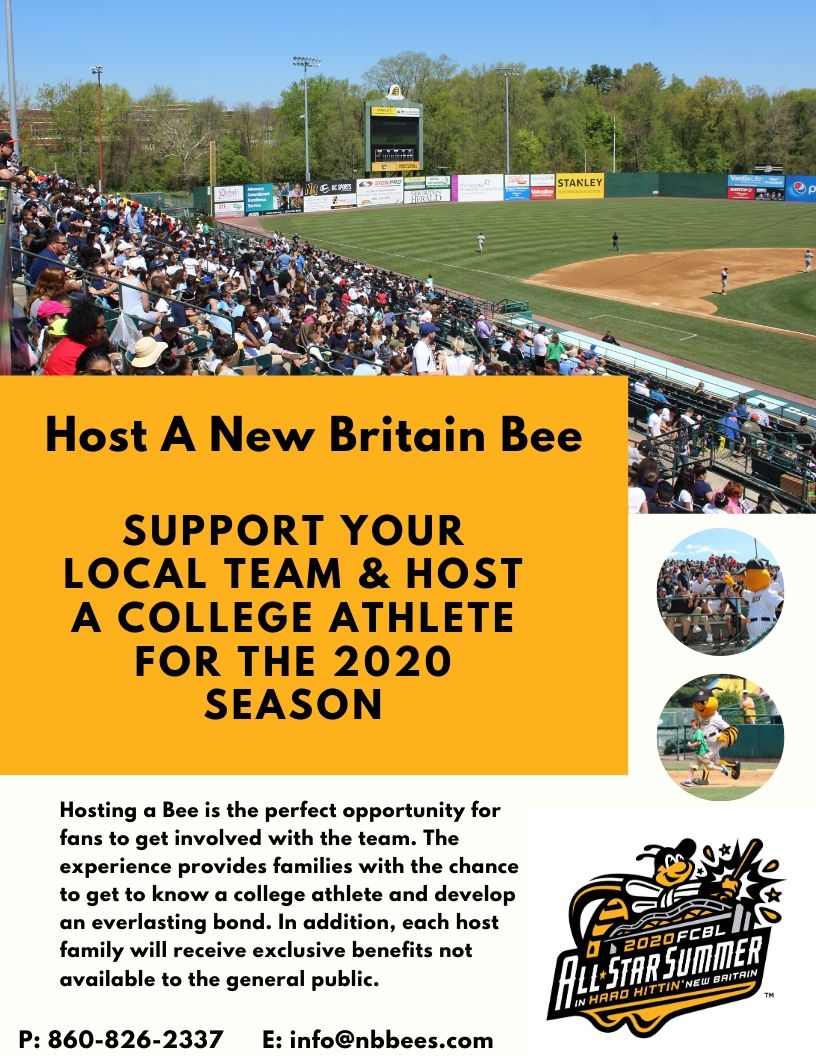 Click On The Above Flyer To Download Important Information
The New Britain Bees are seeking members of the Central Connecticut community that are interested in becoming host families for Bees players for the upcoming 2020 baseball season.

Hosting a Bee is the perfect opportunity for fans to get involved with the team. The experience provides families with the chance to get to know a college athlete and develop an everlasting bond. In addition, each host family will receive exclusive benefits not available to the general public.
Becoming a Bees Host Family is easy! The only requirements for host families to provide are:
A private bedroom for the player

Use of a bathroom and kitchen
Any other amenities that you are willing and able to offer will be greatly appreciated by your player and the team. If you are interested in becoming a host family or if you are a landlord with available properties, please call 860-826-BEES (2337) or email Bret DeRosa at [email protected].
Frequently Asked Questions
1. What is a Host Family?
A host family is somebody who is willing to open their home to one or more New Britain Bees baseball players. Host families offer free room and board. Players arrive at the beginning of May and leave at the beginning of August.
2. What do I need to be a host family?
A player needs a bed to sleep and access to a bathroom. We also ask that the players have access to a kitchen and a place to park their cars. Other amenities that are at the discretion of the home owner would include washer and dryer and WIFI.
3. What do I receive in return?
We offer a wide variety of exclusive benefits to our host families. Each host family receives different benefits based on their needs.
4. Can I establish my own rules?
Absolutely! This is your home, your rules.
5. Do I need to provide meals for the players?
You are not required to provide meals or food.
6. Will they have their own car?
Some players will have cars, but not all